CURTAIN WALL SPRAYING
KML Decorators Spray Division- Curtain Wall Spraying
KML cover all aspects of painting and decorating and have a dedicated Spraying Division who provide flawless finishes on all surfaces. The spraying team are highly skilled at Curtain Wall Spraying, both external and internal coatings. This includes the spraying of powder coated window frames.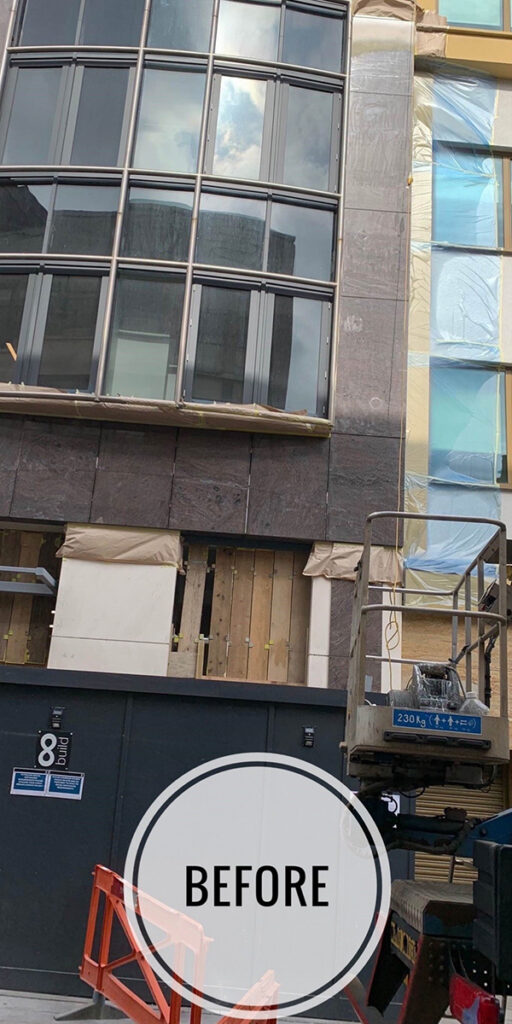 Case Study:
14 Bonhill is an office building located in the heart of Shoreditch. In 2019 it underwent a comprehensive refurbishment program to provide bright, media style office accommodation in a prime location.
The construction project took a two phased approach, including CAT A fit outs internally and restoring the external façade.
Externally
The polished granite finish of the façade was outdated and the KML Decorating team were tasked with bringing it up to date. To achieve this the surface required mechanical abrasion, acid etch priming and then the application of a two pack Epoxy paint finish.
Another part of the façade modernization program was the respraying of the metal windows. For this the KML team applied a powder coat, providing an immaculate finish and long-lasting protection.
These processes transformed the external outlook of the building providing a modern finish representative of the clients' services.
Steelwork
A 6-storey steel frame extension was built to the rear of the building and the KML Spraying team applied Intumescent paint to the framework on each level. Internally HPVL spraying techniques were used to provide decorative finishes to staircases, railings, and structural steelwork.
KML Operatives carried out most of the internal and external works using mechanical access equipment such as Cherry Pickers, for which the team are trained and skilled at operating from.